UNDERSTANDING THE TIMES
2022 NATIONAL SUMMER CONFERENCE
MESSAGE FROM THE PASTOR
Grace and peace from our Lord Jesus Christ be multiplied to you. It is with
great pleasure that I invite you to the Deeper Life Bible Church, Finland
Summer Conference 2022 – "Understanding the Times".
The Conference will be featuring sound Bible teachings, inspiring choir
ministrations, marriage and family life sessions, health talks, career and
financial management sessions, and prevailing prayers. In a rapidly changing
world, where many things are uncertain and humanity is in need of divine
direction, it is important we understand the times.
The Conference will be held from Friday-Sunday (29-31 July, 2022), at the
Original Sokos Hotel Presidentti, Helsinki.
I appreciate your time, understanding and cooperation. We look forward to
welcoming you.
Yours in Christ,
Pastor (Dr) James Anyan
National Overseer
Deeper Life Bible Church, Finland
---
PROGRAMME OUTLINE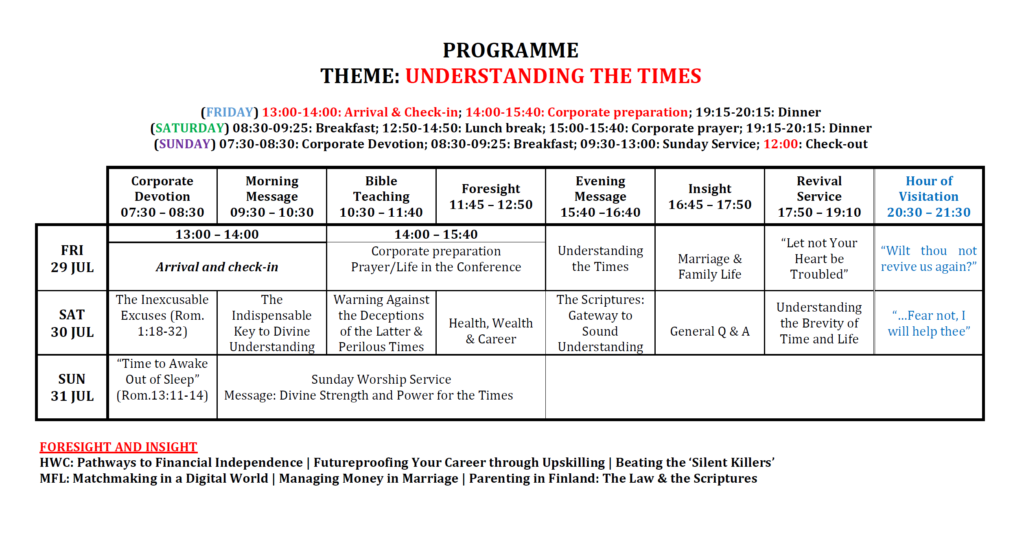 ---
PROMO VIDEO
---
HANDBILL